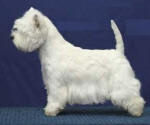 BREED STANDARD
WHAT A WESTIE SHOULD LOOK LIKE !!!
The Westie is a small strongly built, courageous and hardy looking terrier, displaying no small amount of self-esteem. He is a very affectionate, character and a fine dog and pet.
The "perfect" Westie should have the following conformation.
The head should be thickly coated, with the skull being slightly domed, showing a slight tapering from the ears to the eyes and further tapering of the foreface from the eyes to the muzzle where there is a distinct stop.

The eyes are very dark and piercing, of medium size and set well apart.

The jaws are strong and level with the teeth in a scissor bite.

The nose must be black and fairly large.

The ears are small, sharply pointed, held firmly erect and covered in short, velvety fur.

The neck is fairly long and muscular, gradually thickening towards the base where it merges into broad
bladed shoulders which slope nicely backwards.

The compact body had a level back and broad strong loins.

The chest and ribs are deep. The ribs are well arched in the upper half giving a flattish side appearance.
The elbow should be held well into the body.

The hindquarters are strong, muscular and wide across the top. The forelegs are short, muscular and
straight, covered with thick hard hair. The hind legs are short sinewy and have very muscular thighs
which are not set too far apart. The hocks are bent and set well under the body.

The feet are round, strong and thickly covered with short hard hair. Nails and pads should be black.
The forefeet are larger than the hind feet.

The coat must be pure white and must be double-coated, with an outer coat about 2 inches long and free
from curl. The undercoat is short, soft and close.

The tail is 5 to 6 inches in length and covered with hard hair with no feathering. It should be straight
and carried jauntily straight up, but not over the back.

Movement is free, straight and easy all round.