Westie Club Breeders List
We currently don't have any members who wish to be included on this list.
- Our members don't tell us when they have puppies available they generally keep their own lists.
- We do not recommend Breeders.
- Our members do not tell us when they are planning on having a litter or when they have a litter.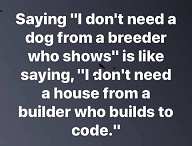 *** Please be aware that there is currently a puppy scam being run on-line by unscrupulous people. They are offering puppies at a very low cost from interstate. there are no puppies, do not send them any money. They have a very professional web site with pictures of Westies as well as other breeds. If in doubt please check with scamwatch.gov.au ***